The US-China trade war has been shaking the global economy for over a year, causing unrest in businesses around the world. Singapore is no exception to this, seeing an impact to the economy from the US-China trade wars with lowered demands.
Patric Tay, NTUC assistant Secretary-General shares insights on this with the Q2 2019 MOM Singapore Labour Data, "For the first half of 2019, despite the current global trade tensions, we did not see a huge spike in retrenchment figures compared to the same period last year but there is a weakening of the labour market."

Ministry of Manpower- Highlights on the Singapore Labour Market
Released on the 12 of September, here's a quick summary of the key points from th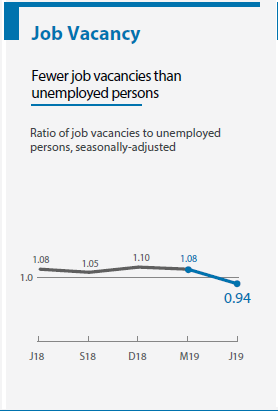 e Q2 2019 Labour Report by the Singapore Ministry of Manpower.
Healthier Retrenchment Figures Observed in Singapore
The uncertain economic waters that caused a spike in retrenchment levels in Q1  did not affect Q2 in the same manner.
Employers are finding more success in retaining their existing workers with a retrenchment of 2,320, lower than that of last year.
Employers Adopting a Cautious Attitude Towards Hiring
Q2 saw an increase in total employment by 6,200, similar to that of last year (6,500).
While the total employment increased, there was a decline in the number of job vacancies.
In Q2, there are 94 job openings per 100 job seekers.
Lowered Re-entry into Employment
Following the more careful hiring considerations witnessed in the lowered job vacancies, Q2 is also seeing a lower rate of re-entry into employment.
After trending up from Q3 of last year, the rate of residents reentering employment within 6 month of retrenchment has lowered to 59.9 this quarter.
All Charts Courtesy of MOM- Manpower Research and Statistics Department
Singapore – Combating High Turnover Rates
According to the Singapore Human Resources Institute (SHRI), 57% of Singapore companies believe that employee turnover has a serious negative effect on organisational performance.
While it is almost common knowledge that high turnover rates means extra cost for businesses, with 60% of respondents from the same study agreeing that retention of employees is one of the key challenges they face, there is little organised effort to actually examine the cost of employee turnover.
As detailed by SHRI's study, as many as  54% of the respondents revealed that their organisation does not do anything to calculate employee turnover cost.
Given the current approach, we may not have the means to find out the exact increase in cost if turnover worsened by one percentage point a year, but taking into account both direct and indirect cost of turnover, it is safe to say that lowering a company's turnover rates will allow for a more smooth operating organisation.
So what insights can we draw from MOM Singapore's Q2 2019 labour report on minimising cost through lowering turnover rates?
Cost Saving Solutions to Retrenchment at Times of Economic Uncertainty
Coping with a lowered demands due to the US-China trades, many companies in Singapore are using alternative solutions to manage the excess manpower. Besides retrenchment, we're seeing an upwards trend for solutions such as shorter work weeks, flexible working arrangements and temporary layoffs/ redeployment.
This movement into alternative solutions to retrenchment is further encouraged by the Ministry of Manpower Singapore. Instead of cutting jobs to save costs, businesses in Singapore are advised to take reference from the tripartite guidelines.
Charts Courtesy of MOM- Manpower Research and Statistics Department
Previously, in times of recession such as that of the Dot-Com Bust and the Global Financial Crisis in late 2008, we saw a spike in the use of short work weeks and temporary layoffs as a way to combat excess manpower.
While levels are much lower than during recessions, the trending use of short work-week and temporary layoff points to Singaporean firm's growing caution in these uncertain economic conditions.
Enriched Employer Branding- Saving Costs in the Long Run
For many people, employer branding as an HR solution has been tied to recruitment and a means to attract the best talent in the market to your company. However, with the growing concern for alternative cost saving measures, employer branding services poses as a fresh solution towards retaining employees.
As the economy enters into uncharted waters with the unfolding US China trade war, there is a growing need for companies to secure their workforce.
High Turnover = Extra Costs
Be it direct or indirect, there is always a cost tied to replacing an employee. From cost of hiring, training, transitions, to productivity lost and lowered morale just to name a few, the impact of high turnover can be catastrophic to a company, impacting the stability of the overall organisation.
Calculating Cost & ROI
For a business to properly leverage their manpower, it is crucial that you evaluate your initiatives, this includes a close evaluation of the impact changes in turnover has towards your business. By calculating the cost and ROI of your efforts, you can manage your workforce in a more targeted manner.
Leverage on Alternative Solutions to Keep Turnover Rates Down
Instead of cutting jobs, when facing periods of lowered demands, companies may choose to use alternative measures such as temporary layoffs, shorter work weeks, and elevated employer branding to lower the damage in the long-run, eliminating problems such as lowered productivity.
Looking for ways to secure your HR operations? Links Employer Branding services may be the answer for you! Schedule a call with one of our representatives to learn more about our services today.
Related Articles:
---
With 20 years of HR services experience in Asia, Links has been trusted by over 10,000 clients to help elevate their HR processes. Get in touch with one of our representatives and learn how we can help you improve your employer branding and move your business to the next level.